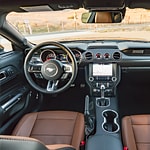 The Ford Mustang is an iconic and world-renowned car, and the 2020 model lives up to that iconic status with design features all its own to carry on the name, yet allows you to stand out from the crowd.
Luxury and Comfort Inside

The 2020 Mustang takes off from the starting line with its a push-button ignition and key fob, which allows you to turn the car on and off with just a fingertip. Other available design amenities include heating and cooled seats, a center console with hand-stitched detailing, and a heated steering wheel.

Your Choice of Wheels

It's all about your style and how you want to customize the look of the vehicle, and with eight different designs to choose from, you can't go wrong.
A Bright Idea

?The 2020 Mustang comes standard with LED headlights to not only see, but be seen.