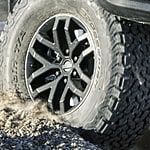 This is a great time to visit your friendly Ford experts at Johnson Sewell Ford so that you can check out the new F-150 Raptor. This popular pickup truck is equipped with all of the latest in automotive performance innovation, delivering a capable and convenient driving experience every time that you get behind the wheel.
The Raptor boasts an impressive 24-valve, 3.5L twin-turbo HO EcoBoost engine, providing 450 horsepower that pairs with 510 lb-ft of torque. This high-output engine comes with the patented Ford port-fuel and direct-injection (PFDI) system along with a 10-speed automatic transmission.
Every Raptor also comes with the Trail Control feature. With this high-tech system, you can activate this cruise control feature to help to traverse rugged terrain with ease. You choose the speed of the F-150 Raptor and the vehicle will intuitively adjust the acceleration, braking, and torque to meet the parameters of your off-road adventure.