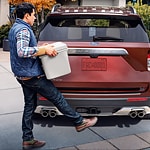 If you need a vehicle that's ready to tow heavy equipment to a work site or transport a camper for a fun family weekend, the Ford Explorer definitely fits the bill. You can get to know the highly capable Explorer when you pay a visit to Johnson Sewell Ford, so stop by our convenient showroom and ask about a test drive today.
The Explorer's well-designed powertrain supplies more than 360 horsepower and a generous 380 foot-pounds of torque that will certainly come in handy the next time that you're pulling a trailer or heading off the beaten path. An even more powerful turbo-charged engine is also available.
An array of built-in controls and regulation systems translate to safer, more secure travel regardless of weather conditions and road quality. Rear-wheel drive, post-collision braking and crosswind management are standard fare on all Explorer models.